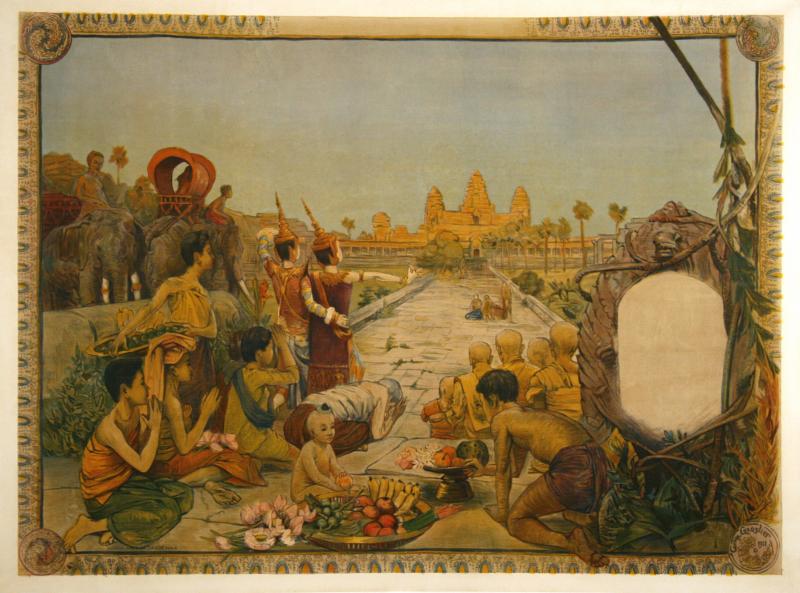 Les Ruines d'Angkor

 

by George Groslier, 1911.
61.75″ x 46″
Here at The Ross Art Group, we like to say that "every poster has its story". The recently acquired and exceedingly rare 
Les Ruines d'Angkor
by George Groslier (above) is no exception.
This poster's story is one that is rooted in Imperialism, ancient religions, and one man's quest to share the beauty of his homeland with the world.
Built in the 12th Century, Angkor Wat is the largest religious monument of any kind in the world.  It was originally constructed as a 
Hindu
 temple during the 
Khmer Empire
, and gradually transformed into a 
Buddhist
 temple toward the end of the 12th century. It is located in a relatively remote area of Cambodia, near Siem Reap. The ruins of this Temple are a major tourist attraction for those visiting Cambodia.
George Groslier (with helmet) at Angkor Wat, 1910.
George Groslier (1887-1945), the artist of this important poster, was born in Imperial Cambodia (French Indochina) to French parents. Raised and educated in France, Groslier always recalled his birthplace fondly. In 1910, at the age of 23, he was commissioned to travel back to his homeland to study Cambodian architecture and anthropology on behalf of the French government.
Through his work as a painter, writer, historian, archaeologist, ethnologist, architect, photographer and curator, Groslier sought to preserve the arts, culture, and history of the Khmer Empire. It is during this early period that Groslier created
 the 
Les Ruines d'Angkor
poster to promote French travel to his beloved Cambodia. This is an extremely rare poster, before the addition of text, and was finely printed via stone lithography in 1911:
Pictured at the entrance to the temples are traditionally appointed dancers and worshippers, greeting the sun as it illuminates this sacred site. What could easily be a voyeuristic view of an "exotic" locale has been respectfully, accurately, and lovingly depicted by Groslier. A firm believer in preserving the indigenous culture of Cambodia, George Groslier would go on to found the National Museum of Cambodia, as well as the School of Cambodian Arts.
Groslier fought under France in WWI, but returned to Cambodia to raise his family. He dedicated the rest of his life to the study and preservation of Cambodian traditions. Groslier was interned in a concentration camp during WWII, following the liberation of Cambodia from France by Japan, and passed away as a prisoner of war. 
George Groslier's life was filled with sharing the beauty of Cambodia with the Western world, and this dedication can be clearly seen in
Les Ruines d'Angkor
. It is a joy to have this poster in the Gallery.
Thank you for allowing us to share just one of the many stories that surround us here at The Ross Art Group!